In my recent post, I highlighted a few things to help guide your search for a plastic surgeon and ensure that you find one you can trust. Things like asking friends and family for recommendations, reading as many reviews as you can stomach—but digesting them with a grain of salt, and checking the surgeon's credentials.
All of that should serve as preparation for your initial consultation with a plastic surgeon, a critical part of the process. Here are a few more tips for what you should be looking for in a plastic surgeon. These are intended to provide you with a framework for the consultation itself and the moments that will follow it, right up to your decision.
Treat the consultation like a job interview.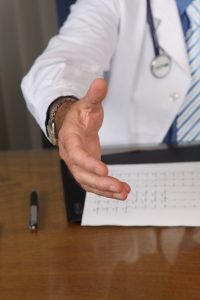 If you walk into your consultation thinking, It's the doctor's responsibility to sell me on his ability to do this procedure, you're going to miss a prime opportunity to gain some valuable insight into both the procedure and the doctor. Not to mention, those pitches are going to begin to become indistinguishable.
So, just like you would for a job interview, come prepared with a list of questions to ask the plastic surgeon. Go in with the aim of trying to resolve any uncertainty you may have about the procedure and the surgeon. Here are some examples:
What's your experience with this procedure?
Can I see photos of some of your patients who've had this procedure, specifically those with my body type?
Where will the procedure be done?
I know this procedure is routine and safe, but just in case there's a complication, are you affiliated with a hospital?
What can I realistically expect from the recovery, and can I avoid the use of opioids?
What's the total cost of the procedure, with all the fees included?
The consultation is also the time when you should express your impetus for the procedure and your goals for it. The former is just as important as the latter because the surgeon may be able to suggest an alternative, less-invasive way to resolve the concern, or a complementary procedure that could provide a more comprehensive solution.
Take note of the doctor's demeanor, too.
There can be so much emphasis on a doctor's technical ability and experience that their bedside manner is overlooked. But that's an important factor to consider for what you should be looking for in a plastic surgeon. Plastic surgery is equal parts science and art, so you should be weary of any doctor who treats this process as formulaic, or who pressures you to undergo a particular procedure.
No matter how often they've performed this procedure, they should treat you uniquely, asking lots of questions of their own and openly discussing realistic outcomes. And then they should be willing to give you your space to digest all of that information and decide on your own—and even meet again, if you feel it's necessary.
Take your time and trust your instincts.
The relationship between you and your plastic surgeon is a personal one. You're sharing concerns with them, some that you may not even have expressed to your spouse or partner. So, take your time and be patient. If you've met with a few doctors and you didn't connect like you'd hoped you would, keep looking. You didn't begin this process by settling. Don't start now.