Angela Cyrus-Fowler – Senior Medical Esthetician / Trainer
Angela made a CHOICE to take a CHANCE for a CHANGE in the quality of her life. She swapped her many years of corporate experience in pharmaceutical and business management for helping others by improving their overall skin health. Angela prides herself by staying "current" by attending top regional skincare symposiums and seminars.
She has attained many advanced skincare certifications ranging from customized medical grade chemicals peels to addressing the many facets of hyperpigmentation. Angela executes and customizes a multitude of skin protocols for her extensive clientele. Angela has become an expert in individualizing medical grade skin care regimens and an array of different protocols. Angela works closely with Dr. Davis and has mastered how to target and address a multitude of skin issues, premature aging, pre/post laser care and acneic skin health. Angela has appeared on many local news stations and Philadelphia talk shows. She was recently awarded Best Facial from 2012 South Jersey Magazine. "If you love your job, you will never have to work a day in your life!"
---
Donna Arnold – CSS, RT(R)CV, CINHC
Certified CoolSculpt Specialist
After working in cardiology for nearly 30 years, and working as a certified health coach for many years, I decided to focus on matters of the heart in a different way and became a certified CoolSculpt Specialist at Davis Cosmetic Plastic Surgery. I consider it an honor and privilege to assist others in achieving their personal goals. I love connecting with people.
I feel such satisfaction and fulfillment when I see my patients return for follow up visits happy with their amazing results. I joke with my patients that I consider myself a seamstress for the birthday suit.
Schedule a free consultation with me. I hope I can assist you in your journey to achieving your goals.
Peace and Love — Donna
Sara Cole, RN, Aesthetic Nurse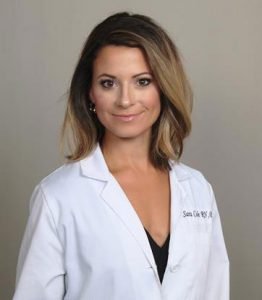 Sara is our Aesthetic Nurse, specializing in injectables, lasers and skin services. She has a Bachelor of Science in Nursing from Drexel University, and over a decade of clinical experience. Sara has been trained extensively in Aesthetics and is a valued member of the Davis Cosmetic Plastic Surgery team.
Her background includes working as a critical care nurse in the Intensive Care Units of two level-one trauma centers. Sara is currently pursuing a Master's Degree as a Nurse Practitioner at Rowan University. "My purpose is to establish a very special and trusting relationship with each of my patients. Aesthetics is a journey, not necessarily a destination. I am honored to be a part of that journey with you." – Sara Cole.