Do you want to target fat quickly? Recently Dr. Steven Davis was published in Modern Aesthetics Magazinem about his innovative FLASH procedure.
Dr. Davis explains, "Here's the scenario: A patient comes in with a small pocket of fat she wants removed before taking that beach vacation next week. Minimally invasive high-tech options abound, but they can take weeks and possibly more than one treatment to deliver results. Your patient is looking for immediate gratification. What do you do?
It's this kind of scenario that inspired the targeted fat removal approach I market as FLASH, or Fat Lipo Away Same Hour. It's very effective. It's very inexpensive. And the fat's completely gone in under an hour."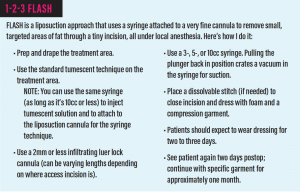 FLASH is a simple procedure and that's the beauty of it. I still discuss other options with the patient—and each has its place—but FLASH offers a quick fix that satisfies when the desire or need is for instant gratification. It's important to note that this approach is designed to treat small fat zones.
For body contouring in larger areas, standard liposuction (with or without mechanical assistance) is more appropriate.
Please visit Modern Aesthetics for the full article or download a .pdf of the article with images here. (Dr. Davis Target Fat With FLASH)